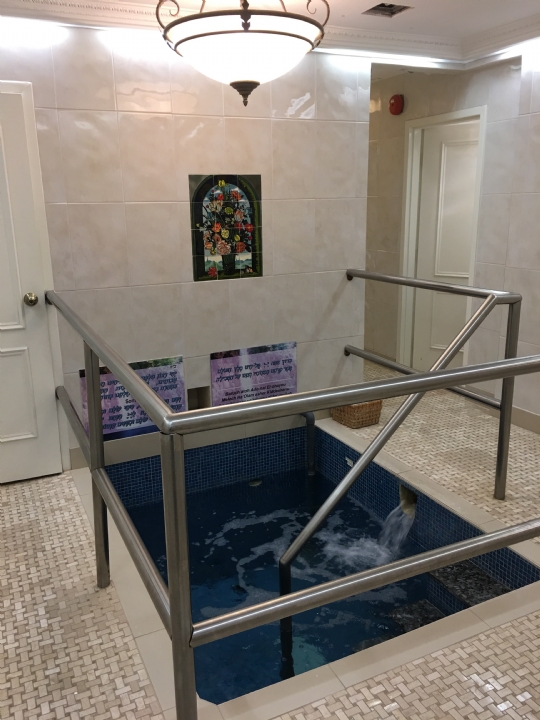 The Mikvah is located at the south west corner of the Chabad Lubavitch Community Centre,  770 Chabad Gate, Thornhill . The designated parking area is located behind a wall of cedar trees. Under the supervision of a dedicated staff, an electronic entry system provides a secure welcome for all patrons. There are 5 preparatory rooms with direct access to the Mikvah-immersion pool. The entire facility has been recently remodeled.
Fresh towels, disposable slippers, robe, soap, shampoo, nail clippers and all the other essentials necessary are provided to enable each woman to completely and thoroughly cleanse herself, and prepare properly for Mikvah immersion
The Mikvah is a cornerstone of Jewish family life. It is used by brides before their marriage, and for married women for the duration of their child-bearing years. Private classes are available on the laws of Family Purity, of which Mikvah is a part, for both brides and those long-married 
Appointments not required.
Winter Hours*  6:00-10:00 PM    
Summer Hours**  Sunset- 10:00 PM                                                              
Friday nights and Holidays - Please arrive promptly 55 minutes after candle lighting.                      
Cost: $20 
For more information please call:
Daytime - 905.731.7000 
Evenings - 905-731-4068 
* November 7th and on  **Daylight saving time
COVID-19 and Mikvah Use
Dear Women of the Community
These guidelines are based on the most recent Toronto city-wide mikvah guidelines.
"There is no evidence that COVID-19 can be spread to humans through the use of pools and hot tubs.
Proper
 operation, maintenance, and disinfection (eg. with chlorine and bromine) of pools and hot tubs should remove 

or inactivate the virus that causes COVID-19".
Based on these recommendations, the Mikvah can be used 
It is incumbent on all of us to keep our community's Mikvah as safe as possible.
For your protection and the protection of others at this time, until further notice only women who have an
appointment will be allowed into the Mikvah.
All appointments need to be scheduled in advance with Mrs. Nakkar at (905) 731-4068. Please leave a
message and Mts. Nakkar will call you back, at which time she will schedule your appointment after she 
has asked you a number of screening questions to ensure it is safe for you to come to the mikvah.
Payment can be made by cheque, Cash will only be accepted with exact change. There will be no hand to
hand exchange of any payment.
You should NOT be attending the Mikvah if:
• you are feeling unwell or have any of the potential symptoms of COVID-19, including fever (>38 C),
cough, shortness of breath, sore throat or diarrhea
• you have been exposed to a person with known or suspected COVID-19 until 14 days after your last
• you have been instructed to be in voluntary or precautionary quarantine by the Toronto Public Health
until the end of your quarantine period
• you have tested positive for COVID-19 until you are cleared by Toronto Public Health to leave isolation
• you have travelled outside of Canada in the last 14 days
Mikvah preparation and attendance:
• All Mikvah preparations must be done at home. Please limit your time at the Mikvah and come fully
• Please bring 2 towels, your own robe and any supplies you may need for the Mikvah as there will be no
supplies in the Mikvah rooms
• Please leave directly after your tevila and do not use the showers in the Mikvah
• Women can shower as soon as they return home from the Mikvah
Please be assured that we are committed to our community's safety. Preparation rooms and floors continue to
be cleaned in between each use with a disinfecting cleanser and with emphasis on any hand-held items and
frequently touched surfaces. The chlorine levels of the Mikvah are monitored and they are filtered daily.
According to public health sources chlorine can destroy a virus that might come into the Mikvah.
Your commitment to the Mitzvah of family sanctity and to the health of our community is greatly appreciated in
these trying times. May it bring protection and health to our homes and to all of Klal Yisrael.
The Rabbonim and Staff of 770 Chabad Gate Mikvah.